About Us
The Consulting Chapter was launched in 2020 at Net Impact Club at ESMT Berlin. Since then, students from ESMT and Net Impact have already been able to support 10+ international organisations in the implementation of their projects.
Our Values:
Find Sustainable Solutions: Apply knowledge and skills from our ESMT Community to develop tailored and sustainable solution concepts for our partners.
Raise Awareness: Raise awareness on environmental and social topics and support organisations in improving their positive impact to the society.
Build a Community: Encourage fellow students to support organisations in the implementation and adoption of sustainable solutions.
Learn and Rise: Expand our understanding of environmental and social challenges and learn from the organisations that we collaborate with.
Consulting Services
Investment Strategies
Provide expertise in the fields of accounting, financial management, asset valuation and risk analysis to identify sustainable investment strategies for NGOs, start-ups and enterprises.
Operations & Supply Chain
Analyse the inner procedures and mechanisms to the root of its causes with the goal to optimize processes including creation, distribution, design and management of products and services.
Market Research & Competitor Analysis
With extensive analysis of the current market situation including multiple variables like geographical location, potential entry barriers and target customers we provide solutions to help young start-ups thrive and make eloquent investments.
Sustainable Business Solutions
Build a business strategy to foster environmental or social impact of an organisation. To achieve meaningful results we use our knowledge from previous projects combined with different resource platforms, e.g. the carbon accounting software from our business partner Plan A.
Members
Alejandro
Consultant
MiM candidate with the backgrounds in Financial and Real Estate industries. I have working experiences as a financial services consultant and in the property management sector.
Ashley
Consultant
MiM candidate concentrating on Business Analysis. I collected Business Development, Growth Marketing and Account Management experiences in Manufacturing and HR industries.
Bodi
Consultant
MiM candidate focusing on innovation. I have launched companies in Europe and the Middle East, spent 1.5 years as global lead in a unicorn Q-commerce startup and invested in VC cases.
Chris
Consultant
MiM candidate with a bachelor's in Financial Management concentrating on the quantitative track. I have work experiences in the Venture Capital industry.
Daniel
Consultant
MiM candidate with a background in Engineering specialising in renewable energy systems. I have work experience in energy, wind and strategy consulting.
Gaurav
Consultant
MiM candidate at ESMT Berlin with 2 years of experience in a Business Consulting role with valuable technology and business acumen.
Julie
Consultant
MiM candidate concentrating in Business Analytics with a Bachelor's degree in Economics and Management. I have work experience in HR, business development and customer service.
Kimia
Consultant
MiM candidate focusing on innovation with a bachelor's in Architectural Engineering. I have work experiences in manufacturing, start-up, sales, customer service and consulting.
Kyle
Consultant
MiM candidate focusing on Finance and International Business. I spent 2 years in Spain teaching English and working with children. I have work experiences in corporate finance & business development.
Michael
Consultant
MiM candidate experienced in the digital marketing space. I spent considerable time doing B2B marketing within the food retail/grocery distribution & mechanical engineering industry.
Prajwal
Consultant
MiM candidate focusing on innovative management. I have done my graduation in Agriculture and worked for 1 year in pesticide industry.
Robert
VP
MiM candidate and Software Engineer, specializing in Business Analytics. I have worked for 6+ years in the digital industry sector with focus on automation & manufacturing systems.
Rowan
Senior Consultant
MBA candidate focusing on Data Analytics and Sustainability. I have worked extensively in North America, Africa, and Europe focusing on sustainability and impact-focused businesses.
Samah
Consultant
MiM candidate focusing on innovation. I hold a Bachelor's in Computer Engineering and I worked in the domains of Artificial Intelligence, Data Science, and Machine Learning.
Saumya
Consultant
MiM candidate focusing on innovation. I have a Bachelor's degree in Hospitality and Hotel Administration. I have work experience in the people and hotel operations.
Sherrizah
Consultant
MBA candidate concentrating on Entrepreneurship and Innovation. Prior to that, I have held various roles in the fields of engineering, investment banking and corporate finance.
Recent Services
AVAL
Aval is a social enterprise from Uganda, focused in solving underutilisation of farmers' crops and help lessen post-harvest food wastage by converting these into naturally preserved fruit products.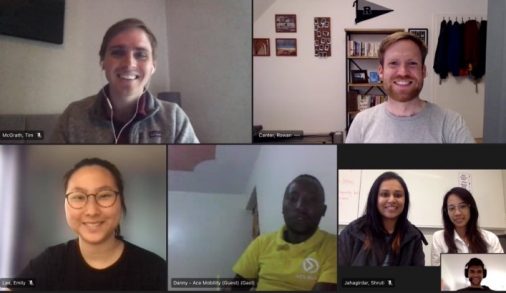 Ace Mobility
Ace Mobility is a startup in Nairobi, Kenya that is trying to provide a safe and affordable transportation solution to vulnerable groups (such as the physically disabled) in the capital. We supported by developing a more efficient business model, identifying opportunities for growth, and analysing additional target customer groups. You will find more information here.